If you drive a Volkswagen e-up! for fast charging (DC) use CCS plug, for slow charging use Type 2. For the charging to succeed, plug it in tight.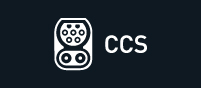 Izmantojot līdzstrāvas (ātro) uzlādi, maksimālā uzlādes jauda ir līdz 40 kW. Zemāk esošajā uzlādes līknē var redzēt VW e-up! uzlādes īpatnības.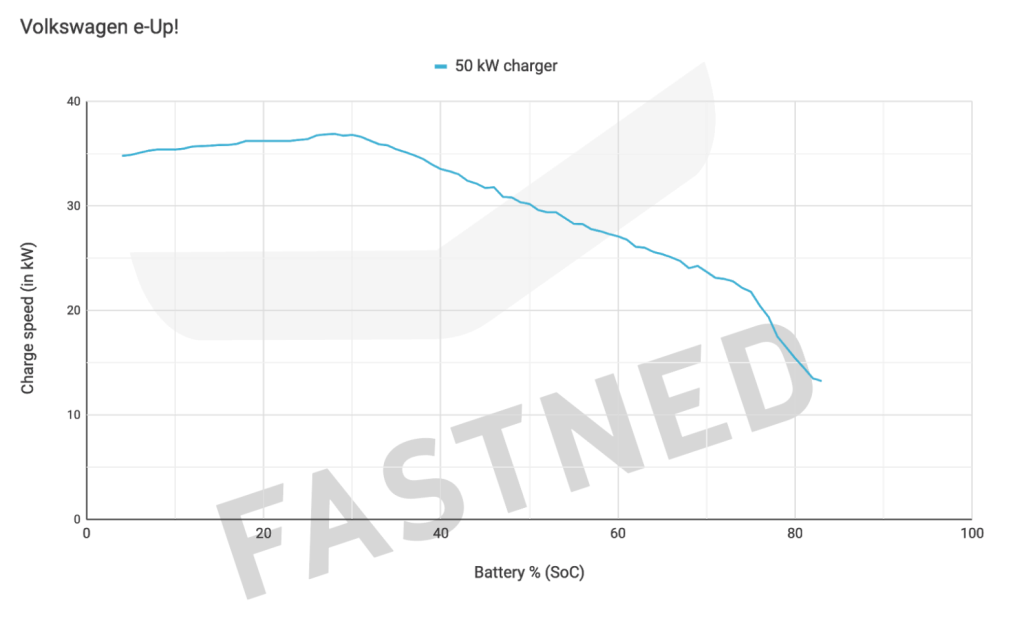 Vidēji e-up! enerģiju priekš 100 km liela attāluma uzlādē 20 – 25 minūtēs.
Padoms
Ja pēc uzlādes beigšanas uzlādes kabelis ir iesprūdis mašīnā, tad atslēdzot mašīnu ar pulti, tiks atbrīvots arī uzlādes kabelis. Tāpat ir jārīkojas, ja nevar atvērt uzlādes ligzdu.
VW e-up! lēnā uzlāde
VW e-up! var uzlādēt arī no maiņstrāvas un tas ir aprīkots ar Type2 ligzdu, kas ir daļa no CCS ligzdas. Šāda uzlāde prasīs daudz ilgāku laiku, jo uzlādes jauda ir krietni mazāka.
Izmantojot mājsaimniecības rozeti nav ieteicams lādēt ar lielāku jaudu par 2kW, kas nozīmē, ka jaunākajam VW e-up! modelim (36.8 kWh) pilna uzlāde var ilgt 18 stundas.
No mājas uzlādes stacijas (wallbox) jaunākais VW e-up! spēj ņemt līdz pat 7.2 kW (no 1 fāzes vai kopā no 2 fāzēm) lielu jaudu, kas saīsina pilnai uzlādei nepieciešamo laiku līdz 5 stundām un 30 minūtēm. Vecāki modeļi (2016.-2019.g., 18.7 kWh) bija aprīkoti ar 3.6 kW (1 fāze) uzlādes sistēmām.
Uzlādes izmaksas
Izmantojot ātro uzlādi, 10-80% uzlāde* prasīs 24 minūtes 18.8 kWh versijai (tiktu uzlādēti 93 km) un 48 minūtes 36.8 kWh versijai (180 km). e-mobi tīklā tas izmaksātu attiecīgi 3.60 €, un 7.20 €. Elektrum tīklā tas izmaksātu attiecīgi aptuveni 3.66 € un 7.16 €.
Izmantojot mājsaimniecības rozeti vai mājas uzlādes staciju un pieņemot, ka cena par kWh ir fiksēta – 0.15 €, pilna uzlāde izmaksātu attiecīgi 2.82 € un 5.52 €.
*Lai saudzētu baterijas, sistēma tipiski ierobežo uzlādes jaudu ārpus 10-80% baterijas uzlādes stāvokļa robežām.
Apskats
Jaunā Volkswagen e-up! apskats